Preparing for a new training program can be an overwhelming process. There are so many options available to you and just as many goals that need tracking. This is where my experience has come in handy! Here are some of the things I've learned about what works best when it comes time to prepare & track your progress while on your transformation journey:
1-The perfect scale I recommend to help track more than just your weight is the Withings Body+ Smart Scale.   This allows you to connect wirelessly, measure body fat, bone mass, body water % and more. This scale has proven to be reliable and accurate when used. I love it because it connects to the exercise app, because of the quality and how long they last. This ties into their own app which has everything you need and more.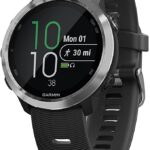 2-I highly recommend the Garmin Fitness-Tracker watch. I love this watch due to all the features it has and being so customizable. It's long lasting battery life is absolutely wonderful so you don't have to worry about charging it all the time like a lot of other watches. I went through 5 watches until I got to this one and fell in love with it quickly. It also has a GPS tracker and if you do any exercise outside it integrates with our awesome app and the scale that I recommend.
3-Another amazing product I recommend is the BlenderBottle Classic Loop Top Shaker Bottle – 28 ounce.  I think I personally have six of these exact same shaker bottles. They make it so there is no need for a blender. In fact, I don't even need to use the non-clumping ball that is included because it mixes so well. I would start with a 3 pack or if you're ambitious get two of the three packs because you will be cycling through them as you use them and they get washed. Also, they're dishwasher safe and have fluid measurements on the side to make sure you reach your daily water intake.
4-OXO Good Grips 5-lb Food Scale with Pull-Out Display is the go to scale for measuring your food. OXO Is one of my favorite brands because they are also durable and long lasting as is this product. This scale is sold at an amazing price and has some great features especially the pull-out display for larger plates. It's exactly what you need to measure your food.
5-Looking to prep and store your food? Rubbermaid Easy Find Lid Square 5-Cup Food Storage Container will help organize your meal prep.  I've got two of these 6 packs myself to help me meal prep, so I can just grab and go with my meals. They are the perfect size for everyone, durable, and dishwasher safe.
6-If you also are looking to find the best on-the-go meal prep cooler, I have two favorites.  The 6 Pack Fitness Innovator & the 6 Pack Fitness Expedition.  If you find yourself traveling frequently or for long periods of time or don't have access to a refrigerator these are the best coolers around and can keep a full days' worth of meals and shakes wherever you go. I've had mine for years and is holding up very well, it will last a long time!
7-I've gone through quite a few different wireless earbuds to be disappointed every time until I finally found JLab Epic Air Sport ANC True Wireless Bluetooth 5 Earbuds. They fit very well and don't pop off of your ear or get in the way of your exercises. With 70 hours of playtime you rarely have to recharge these which is absolutely awesome. Compared to other types of ear buds these should be worth triple the cost.*
*Earbud tips, if they don't have a secure fit: 
To get a more secure fit sometimes you will need to swap out your earbuds tips but in most cases these aren't necessary. If you find that the earbuds don't fit right then purchase these defined the best fit.
This is the exact tripod mount I use and love it, as it keeps the workout hands free with the tripod!
This is the best tripod Ive ever used, very sturdy and allows a lot of heights and positions!
8-I always recommend that it's best  to go to a local place that specializes in running and fitness shoes. This is what I always recommended to my clients because people really need to be fitted for the right shoe for them. They should plan on asking for advice for a running shoe (if running/walking) and a shoe to do bodyweight exercises in, as it may not be wise to use the same shoe.
9-Please wear clothes that will not restrict you from normal and stretching motions. Mesh shorts and a T-shirt are the best attire for you to move freely in, stay cool and to watch motion and exercise form. During the cooler months, you may want to wear sweatpants and a sweatshirt with shorts and a T-shirt underneath to warm-up in, so that as you warm-up your sweat-gear may be removed. Jeans and dress clothes are examples of clothing that is not permitted.
Bill Yeager's Transformations is a participant in the Amazon Services LLC Associates Program, an affiliate advertising program designed to provide a means for sites to earn advertising fees by advertising and linking to amazon.com